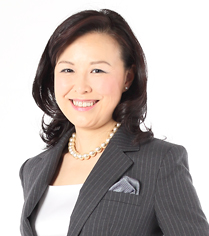 Satoko Iijima

President
Background:

Before Global-Prime, Iijima worked at The Long-Term Credit Bank of Japan, Kinokuniya Company, Trendswire (Contents Division Head, SVP / Producer of a website for women), Scient Japan (Director and Head of Interactive Marketing Division, Director of Human Resource Management) and Ashley Associates (Executive Director). Graduate of Keio University.
Satoko Iijima specializes in planning and execution of digital solutions. As a bilingual account manager, project manager, and contents strategist, Iijima has been engaged in a wide variety of projects such as global platform design and implementation, website re-organization and renewal, contents planning and development for online-offline interactive marketing solutions, branding projects (from brand strategy to development of branding tools), and corporation's project management support.
From 2014, started personal image consulting to support individuals for better personal image and personal success.
Association of Image Consultants International Certified Image Consultant (AICI CIC)
Member of Association of Image Consultants International, Tokyo Chapter
Personal Styling Adviser
Member of The Color Science Association of Japan
Apart from above, due to a long-term interest in color and flower, Iijima is also engaged in personal color consulting, color therapy (Iris Color Therapy), flower arrangement floral education, and flower life therapy.
Major projects:
A major leisure company's e-Commerce site from strategy through initial implementation and on-going operations
A major leisure company's special theme site redesign and operation of the site's management on behalf of the client
An entertainment company's online branding, content strategy, web renewal and online marketing support
Global luxury brand's social marketing program strategy development and its execution support
Global luxury brand's digital marketing planning and its execution support
A leading electronic company's B2C and B2B product online branding and interactive marketing
A noted technology manufacturing company's global branding and B2B interactive marketing solutions
Major manufacturing company's global branding content planning and execution
Major manufacturing company's website globalization project support
IT consulting firm's rebranding of its corporate branding, from brand statement to developing various branding tools
A leading retail company's new business model planning and marketing concept planning support for online-offline business
An international pharmaceutical company's portal strategy and medical contents planning and development
A consumer insurance company's web renewal and direct marketing strategy
A major airline company's global web standardization planning and implementation
Various translation support and communication support in English
保存